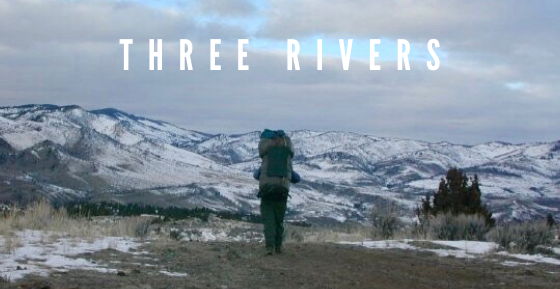 Wilderness-based therapy has helped so many, how many more can we reach through film?
Growing up today in this chaotic society is tough. Taking a break from the noise that surrounds us would be beneficial to anyone. No noise, cell phones, internet or connection to society.
I am Sarah Stusek, the filmmaker behind Three Rivers. Producer Wendy Geary and I met while working on the hit EMMY award winning HBO's VEEP seven years ago and have worked toward making this film together ever since. More about us in a minute, let's get back to THREE RIVERS!
When I was seventeen-years-old I attended a wilderness program that completely changed my outlook on life -- I lived in the backcountry of Montana in the middle of winter for three months. I was in a co-ed group of other teenagers labeled "troubled or at-risk youth" that had to work both together as well as independently to literally survive the program-in-the-woods.
WILD X THE BREAKFAST CLUB
I learned not only lessons about nature and survival skills, but the importance of communication and cooperation. However, by far the most important lessons I learned were about myself. These were not always easy lessons to learn, but I kept at it. After I learned to confront my feelings I began to understand them.
I learned what my strengths were and how to rely on myself. I learned where I had weaknesses and what I needed to do to work on them. I learned about teamwork and that I can rely and trust other people. I learned to let go of little things and live more. I learned that the most important relationship in my life is the one I have with myself. Although it was one of the most difficult things I have accomplished, my experience was an unforgettable one, and one that I know I will continue to lean on every day of my life and I want the world to be able to have this experience as well.
The picturesque backdrop of Montana is almost a character in itself. With the beautiful mountains and and the frozen snow, the nature leads the story.
I went to wilderness therapy in 2007 and its taken me 12 years to get to a place where I could separate myself from this story. So this is a story of Stella. A teenager of today, way more famous and cooler than I will ever be. We hope you join us on this journey.
SYNOPSIS
Stella is just a normal teenager. She parties, fights with her parents and does, well, whatever she wants. Except there is one problem, Stella is a seventeen-year-old on a hit TV show, so she can't exactly behave like a normal teenager without consequences. Though previously publicly unscathed, Stella's extracurricular activities come to a head when her mom—and the rest of the world (thanks, internet!), discovers she's shoplifted from the mall. With fear of Stella the-child-actor finally losing it and spiraling out of control, her mom hires two people to enter Stella's bedroom in the middle of the night and take her to Bozeman, Montana, where she has been involuntarily enrolled into a wilderness therapy program for at-risk youth.
It is in the woods where Stella begins on a path of self-discovery. At first, understandably resistant, she attempts to manipulate her way out of the program any way she can. There is only one thing standing in the way of her escape; the program is literally in the middle of the woods with no connection to the outside world. They hike through snow-covered mountains for miles every day; learning about trees, bears and pemmican bars (yuck). To earn their knives, students must prove they can be trusted, and unless they want to cut raw potatoes with their teeth, they comply. They must also learn to bust a coal, blow up a nest, and build a fire: all with their bare hands. As Stella begins to accept her fate, she is befriended by the cast of characters on this journey through the snow with her, notably Olivia, an opioid addict and Hendrix, who is addicted to technology (and also brought a gun to school - Shhh). The patience she has learned while living in the woods is tested when a new student, James, shows up and recognizes her— but when Stella miraculously finds a lighter on the trail, she has hit the jackpot and continues to skate by.
Her parents will be joining her at base camp for the last night of the program, and she is proud to show them what she has learned in the field. Housed in a teepee, Stella uses her lighter she has been hiding to make a fire for them. With embers glowing, Stella gifts the lighter to Olivia, only to find out her own fire has burnt out in the process. With no other tools on hand, Stella realizes she must depend on her inner fire to reignite the flame. It starts with the pressure on the top socket; the commitment to change, and as she blows, smoke arises. In the smoke, a glimpse of who she wants to be is revealed, and as she perseveres further, she winds up with a coal; a representation of who she is today.
Stella returns home while her peers go on to lockdown facilities and transition programs. She is thrown back into the noise of the world, her twitter account, and the career that she worked so hard to build. So hard, in fact, that she had purposely filmed herself stealing from the mall to gain media attention in hopes to raise her profile. Her plan worked! Because of her viral video, Stella is offered her own spinoff; the one thing she's wanted since the start of her career. She didn't know that her mall antics would cause her parents to ship her off to the middle of nowhere, with no screens or noise, but it ended up plating an overwhelming sense of peace in her heart. She turns down the show, ready for a new chapter in which she can finally see clearly.
Support via Credit Card or eCheck
FAQ
Is my support and credit card info secure?
Yes, the security and confidentiality of your information is our highest priority. We will not sell, trade or share your personal information with anyone else, nor send donor mailings on behalf of other organizations, and we will only share personal information if you have given us specific permission to do so.
Is my support tax deductible?
Yes, we are a fiscally sponsored project of From The Heart Productions, which is a public 501c3 organization recognized by the IRS. Your donation is tax-deductible to the fullest extent permissible by law.
How do I know that my support was made successfully?
You will receive an emailed receipt immediately after your support is submitted and your credit card is processed. Your support will also show up on your bank or card statement within 1-3 business days.
Do I get a receipt?
Yes, a receipt is sent to your email inbox once your support is processed. Please be sure to keep a copy of your receipt for tax purposes. If you select a recurring donation, you will be sent an individual receipt each period when your support is processed.
Is my support private?
We will not share or sell a donor's personal information with anyone else, nor send donor mailings on behalf of other organizations.